While I am a northern girl, during the Kentucky Derby you might think otherwise. The Kentucky Derby is one of my favorite traditions throughout the year. When I was in my teens, my father introduced his favorite pastime to me; horse racing. Dad grew up during the era of Secretariat, the Triple Crowning winning big red horse with the fiercely passionate female owner. This horse not only won the Triple Crown, but he defied and broke all records in his path doing it, winning the Belmont Stakes by 25 horse lengths! Anyways, each and every year I make a point to sit down and watch all three races with my father. And every year without fail Dad will say to me, "Those are great horses, Keri, but they are no Secretariat."
For this year's 141st Run for the Roses, I decided to design and create a Kentucky Derby celebration at home for our family by combining New England prep with Southern equestrian chic. I chose navy and white stripes as the base (very New England) and mixed in a plethora of gold china and flatware with pops of green within the floral design to create the preppy and chic tablescape.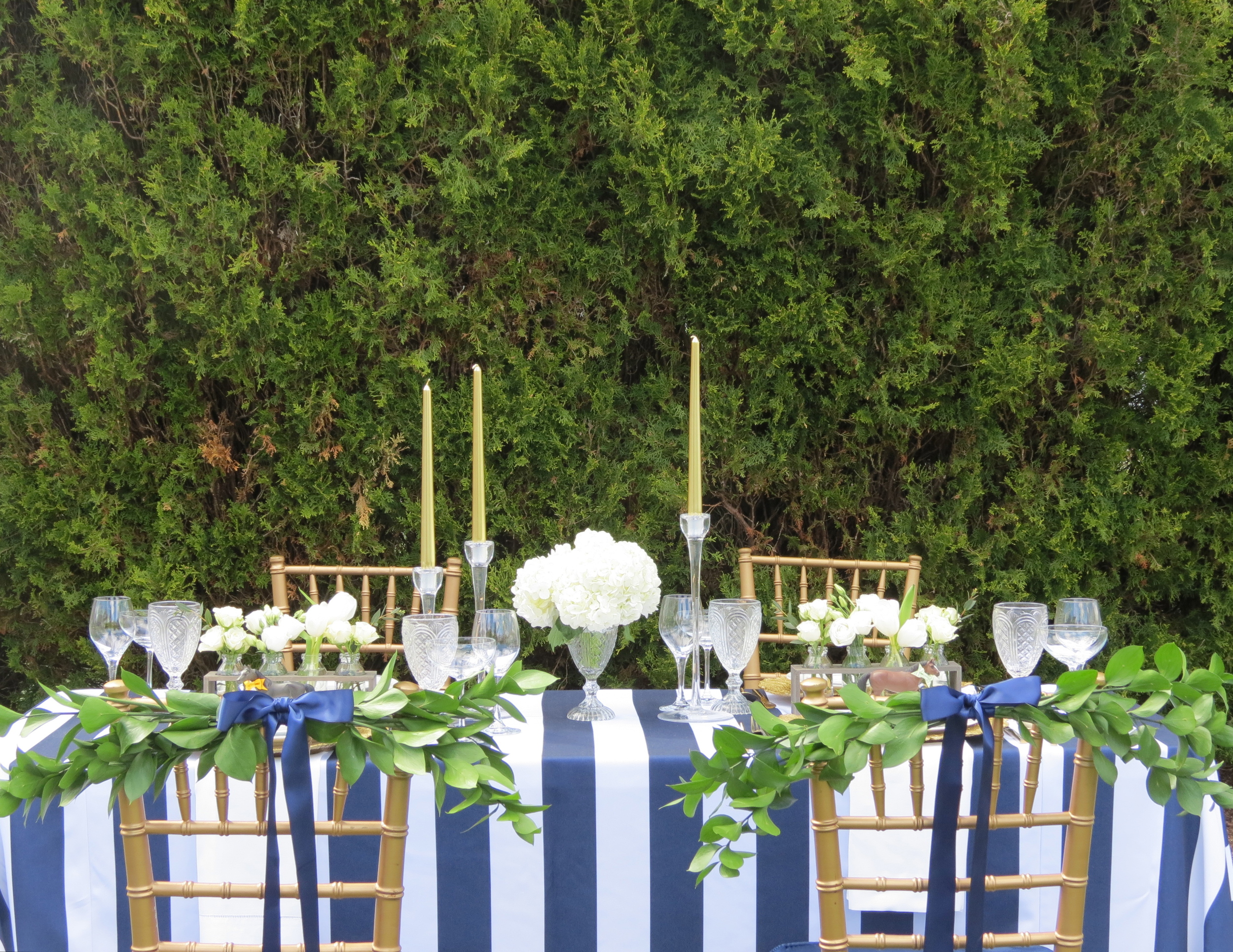 I contrasted gold hard pieces with softer white blooms in glass and wood vessels, again to combine trends from both New England and the South. I added tall gold tapered candles to provide height to the tablescape. And my favorite element was the ruscus chair garland tied with navy satin ribbon.
And of course a few equestrian details such as horses in colorful bowties and gold trophy vases are a must for a Kentucky Derby celebration.
No Kentucky Derby would be complete without with the traditional cocktail: The Mint Julep. Take a look at our favorite Lavender Mint Julep in commemorative julep Derby glasses from over the years. You can purchase these online at the Kentucky Derby online store here! And for those still looking for a mint julep recipe for your own Derby celebration, I definitely suggest you try our Lavender Mint Julep recipe below!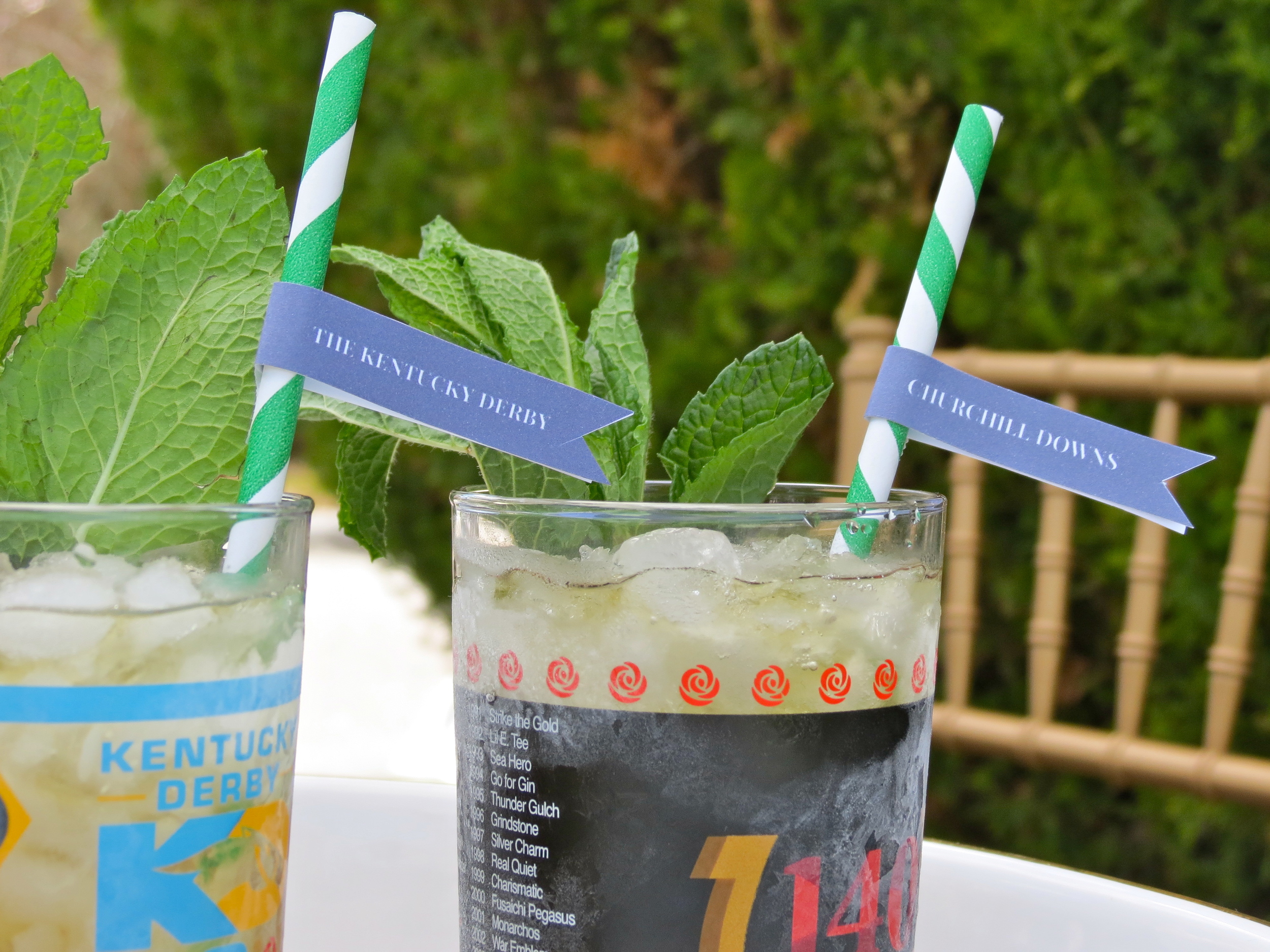 LAVENDER MINT JULEP
Serves 4
Julep Ingredients
8 ounces of Kentucky Bourbon (Maker's Mark or Basil Hayden are great options)
Fresh Mint, plus full sprigs for garnish
8 tbsp Lavender simple syrup (recipe included)
Crushed Ice
Lavender Simple Syrup Ingredients
2 cups of sugar
2 cups of water
Lavender Sprigs (make sure they are food grade)
Tools
Wooden muddler
Silver mint julep cups or glasses
Striped paper straw
Start by making your lavender simple syrup by boiling water and sugar for five minutes. Add in your lavender sprigs then cover and refrigerate for three hours (if you have time, let it steep overnight). When ready, pour one tablespoon (or more if you like it quite sweet!) of the lavender simple syrup into each glass. Add mint leaves from one sprig to the bottom of each glass. Muddle the simple syrup and mint with your wooden muddler to release mint oil. Fill your julep cups or glasses to the top with crushed ice. This is key. Mint juleps are very strong, so lots of ice is necessary to keep the bourbon incredibly cold and delicious. Finally, top with your Kentucky bourbon of choice. Stir to combine everything with a tablespoon, which will also create the frost on the glass. Garnish with a mint sprig and a paper straw.
Has this inspired any of you to host your own Derby event this Saturday? I hope so! If you do, make sure to post a few pictures of what you create on Instagram with the hashtag #ayederby, as I would love to see. And if you have any Derby traditions that you would like to share, please comment below!
Enjoy the Run for the Roses tomorrow!
xoxo,
Keri
Design and Styling by Always Yours Events || Florals by Always Yours Events || Rentals by Peterson Party Center || Hosted at ShoreWay Acres Inn & Resort
Photographs by Always Yours Events — Sometimes when plans fall through, you have to just go with the flow and improvise! Thank you for the support!