It's the week of your wedding, and you've just opened your weather app to see that the forecast went from sunshine to showers for your Wedding Day. First, take a deep breath and try not to panic — please know that everything will work out just fine, believe me. You've come to the right place, and this post is devoted to providing you with steps you can take to ensure that your Wedding Day is just as gorgeous and spectacular despite the rain's inconvenient RSVP.
As a wedding planner and designer based in New England, a region of the US where rain is always a possibility on any given day, I've had to execute a fair share of rain plans over the last nine years. In fact, in the Summer of 2016 alone AYE had to execute three rain plans! Since AYE's specialty is private estate and tented weddings, it's imperative that I create two plans for my couples from the very beginning: a main plan and a rain plan. To ensure that my couples' weddings are just as magical and gorgeous when rain strikes, I've put in place procedures to help a wedding plan adapt to an unfavorable forecast in the days leading up to the wedding. And today I'm sharing with you my top five rain plan tips for hosting a gorgeous wedding when Mother Nature isn't cooperating!
1. Assess Your Umbrella Needs
As soon as you believe rain might show it's face on your Wedding Day, swiftly put that Amazon Prime subscription to work and purchase umbrellas for you, your bridal party and your guests. My biggest tip here is to purchase pretty, large and matching umbrellas for yourself and your bridal party. Dreamy portraits and formal photos can be created even in rainstorms with the right umbrellas! I highly recommend these Totes Clear Bubble Umbrellas (link below) for the bride, groom and bridal party! Or if you would like something solid, consider this classic and sophisticated option with a wooden handle (link below).
For your guests, consider a smaller, compact umbrella or these white umbrellas (links below). Ask your wedding planner or a friend to place them in large woven baskets at the entrance to your ceremony, cocktail reception, dinner reception (and restrooms if they are accessed from outside) for easy access by all of your guests at all times. This hospitable gesture goes a long way in the eyes of your guests, and will keep them dry and comfortable throughout the evening.
Your Umbrella Shopping List:
totes Clear Bubble Umbrella, Clear
totes Auto Open Wooden Stick Umbrella, Black, One Size
Rain-Mate Compact Travel Umbrella – Windproof, Reinforced Canopy, Ergonomic Handle, Auto Open/Close Multiple Colors
Anderson Umbrella Auto Open Wedding Umbrella (48-Inch, White)
For extra comfort, inquire with your rental company to add coat racks and hangers, and have your them placed at the front entrance to the venue or tent.
2. Reconsider Having a First Look
This is sometimes requires some convincing, but I promise you that it will save you quite a bit of anxiety and stress! I LOVE the tradition of the groom not seeing his bride until she walks down the aisle, but this beautiful practice doesn't allow for all formal photos to take place prior to the ceremony. While this might not be a concern on a sunny day, when rain clouds roll in your sunlight diminishes. As you head into the evening on your Wedding Day, it becomes a race to squeeze in all the photos on your list before the sun sets and light is completely lost. On a rainy afternoon/evening, visible sunset will not take place, you will skip over twilight and it will be darker earlier than usual. To streamline your day and ensure that you capture all those gorgeous photos of your family and bridal party, consider having a First Look followed by formal photos about 2 hours prior to the ceremony at a pretty, predetermined location such as an open and airy bridal suite, light filled covered patio, or an indoor space with lots of windows.
3. Find a Indoor Location for Ceremony, Cocktail Reception and Formal Photos
If you're getting married at a venue with an indoor space, moving any outdoor aspects of the day such as the ceremony and cocktail reception should be pretty painless — call your wedding planner and venue coordinator 4-5 days prior to the wedding and request the relocation of these events indoors! If you're hosting a tented wedding, consider calling your tent company and adding an additional rain plan ceremony tent. Many tent companies will recommend you place a deposit on a rain plan ceremony tent upon booking the dinner tent, so you may already have one reserved and at the ready! Then relocate your outdoor cocktail reception to the dinner tent by moving the cocktail tables and placing them around the bars and dance floor in the dinner tent, which will encourage guests to continue mingling until first course is served!
To ensure your Formal Photos aren't compromised by the rain, I would highly recommend finding a light and airy indoor location that you can take pre-ceremony and post ceremony formal photos in. Call your planner and/or bridesmaids and exercise "divide and conquer" for this tip! Have each person call a local space within close proximity to your wedding venue where you can take newlywed photos and formal photos during the Wedding Day. Look for museums, galleries, public pavilions, greenhouses, hotels, historic homes and even other wedding venues with lots of windows, natural light and simple decor. Some locations may require a minimal fee for wedding photography to take place. In this case I say that if you love the location and it's convenient, pay the fee — it will be worth the peace of mind! Once you find your Formal Photo Location, update your timeline and contact your photographer as well as the bridal party members and family on the formal photos list and provide them with the address.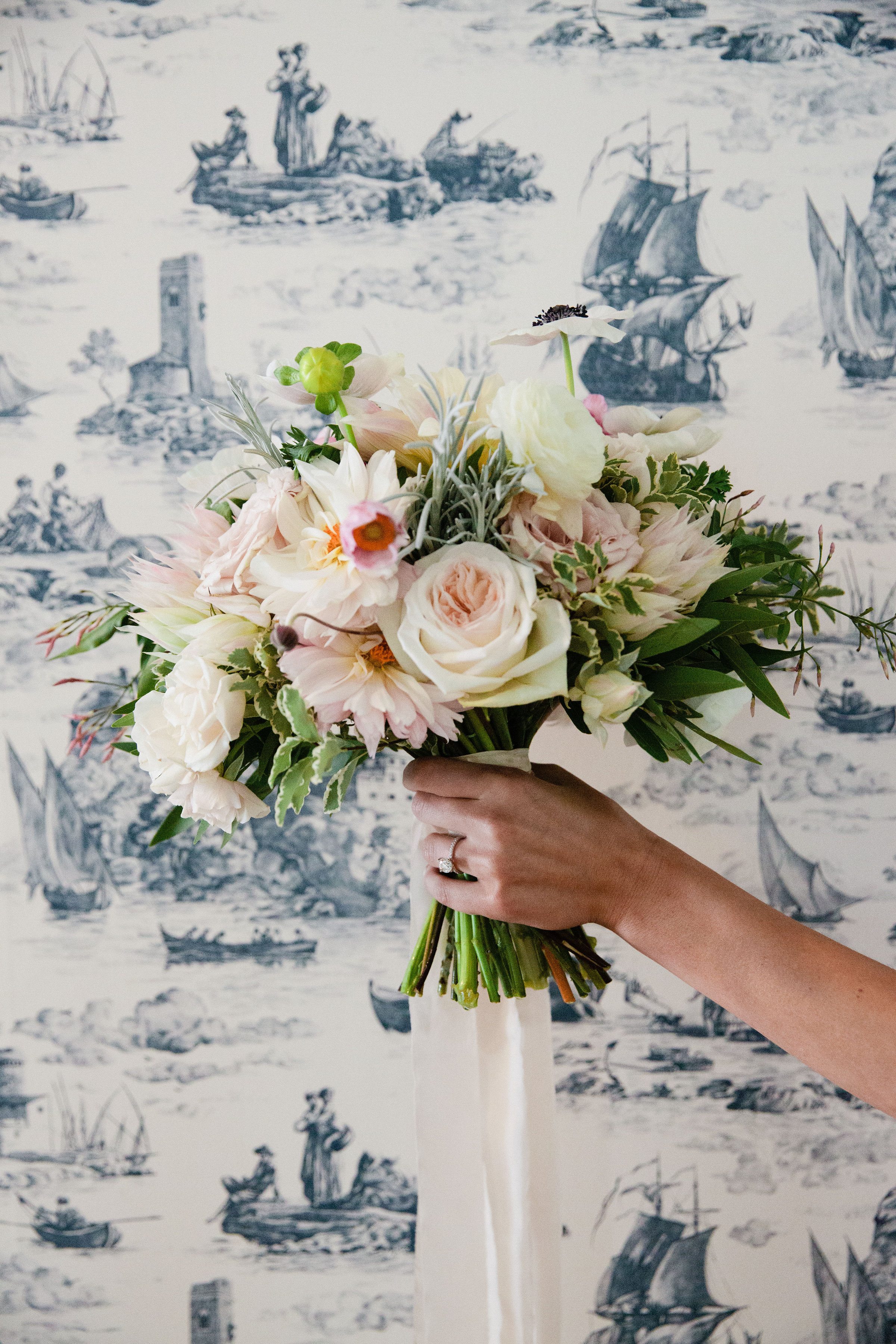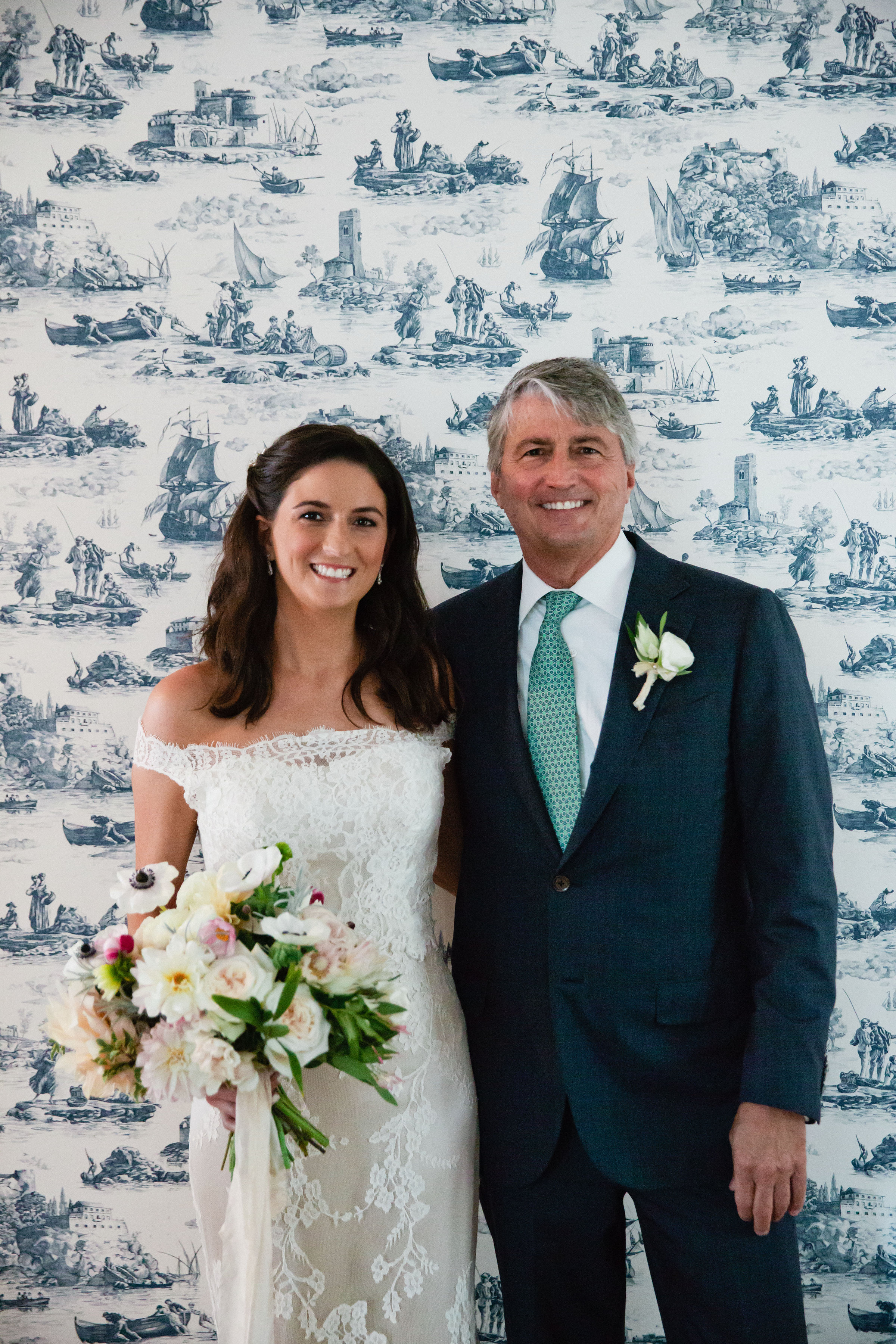 4. Keep Your Vendors In the Loop
This step is key. If you don't have a wedding planner already handling this aspect, contact every vendor on your Wedding Vendor Team to let them know your rain plan, even if the changes are very minor. A simple quick phone call to each to chat through the flow of the day will keep everyone on the same page as well as address any questions ahead of time, and it will allow your vendors to adjust their own plans if need be. Keeping your team informed and working off the same plan as you are will set them up for success, and as a result keep the event seamless even in inclement weather.
5. Embrace the Rain
This final tip might be the most important one. Try not to let the rain dictate your emotions on your big day. Reframe your mind to see rain as "no big deal" and you will be much more likely to enjoy the celebration from start to finish. One of my most magical weddings to date took place in the rain — with the pitter patter of raindrops overhead the candlelit reception under a clear top tent felt like a little piece of romantic heaven to guests! Some of the BEST newlywed photos have been those taken in rain. When the ceremony is over, grab your pretty umbrellas, hold onto your other half and head for the outdoors for a few minutes with your photographer. Laugh, smile, dance, hug and kiss for some stunning and epic photos of you as newlyweds in the rain.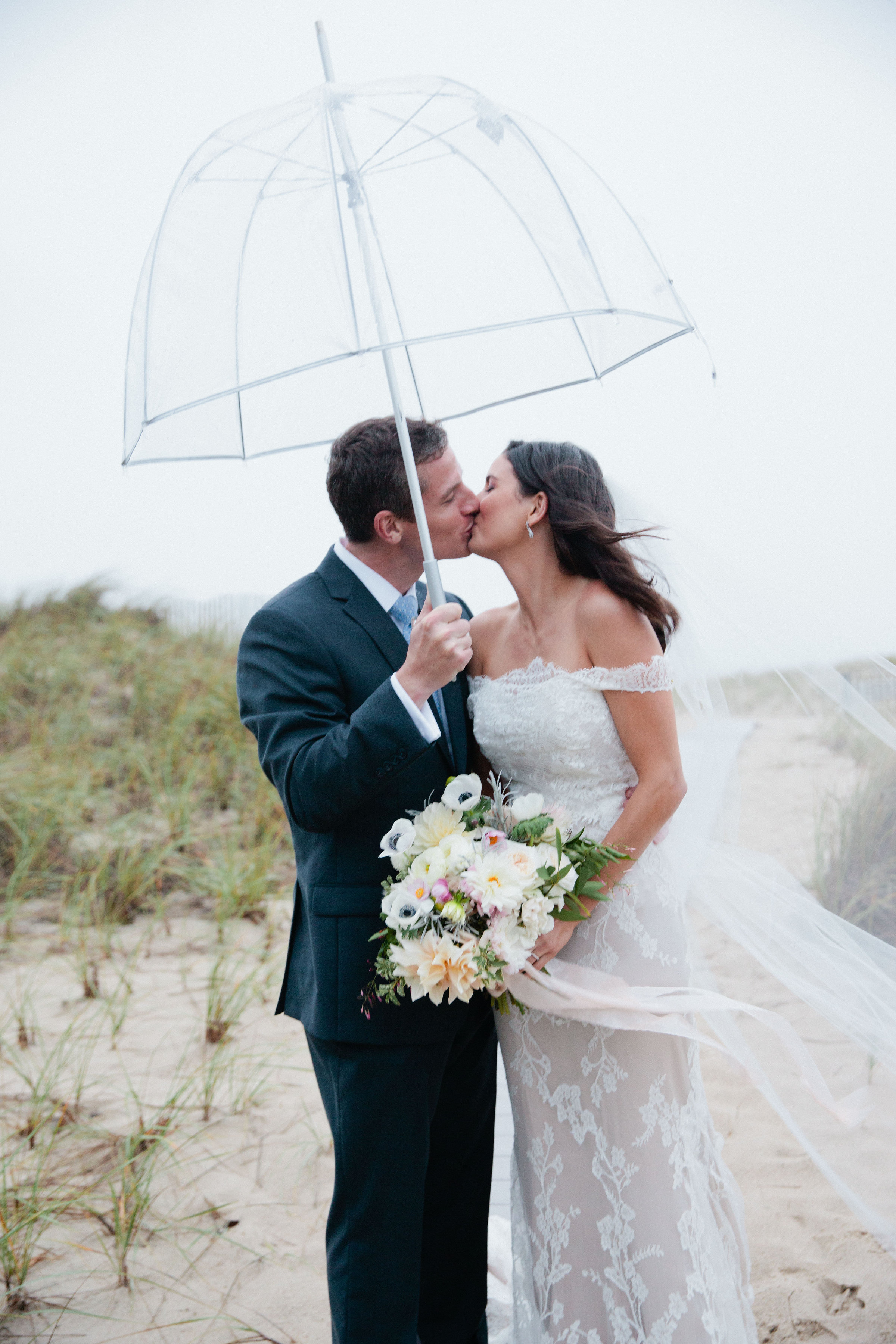 Bonus Tip: Add Flowers
I couldn't resist adding just one more! Because many of my couples' host at least one part of their wedding outdoors, often times we are moving that piece of the day indoors. And when doing so, sometimes you need to bring the outside in to maintain the aesthetic and keep the design you've worked so hard to create in tact. Flowers can really help to transform a space into a romantic setting and add brightness to an indoor venue. Consider adding more blooms to your ceremony's flower arch to make it more impactful and "wow" guests as they walk into the ceremony space. Soften hard surfaces such as mantels and
And there you have it! Friends, I hope this post has been helpful and calmed any nerves you might be having about the chance of inclement weather on your wedding day! For anyone who has experienced rain on their wedding day, I would love for you to comment below and share your umbrella photos with me!
Until next time!
xo, Keri
Photography by Carly Michelle Photography