While every year's success and beauty is in the eye of the beholder, for myself and AYE 2017 was one of the BEST years that has come to pass!
2017 was filled with milestones that I will cherish and reminisce about when I'm 80 and recounting these days with nostalgia. On a personal level, in on June 9, 2017 Sean and I got engaged on the doorstep where we met in college just 7 years ago. With our family and friends around us for a surprise engagement party just moments after, we popped champagne and drank to the chapter of our lives just beginning. The next day we traveled down to Charleston, SC for a completely planned (by Sean) surprise trip filled with the some of my happiest days to date! This year was also filled with emotion as my big brother and my sister in law were married in October, and I had the incredible privilege to in their wedding. And finally, we brought home our sweet and adorable old english bulldogge pup who we named Poogan after our favorite restaurant in Charleston (Poogan's Porch), which of course we visited on our engagement getaway!
Professionally, 2017 was a PIVOTAL year that catapulted the AYE brand beyond my wildest dreams! Come along with me below to see a snippet of the love stories, design and magic from each of our weddings this year:
Trish and Nick's modern romantic celebration filled with a dusty rose, mauve, blush, taupe, vine green and crisp white color palette brought a West Coast romantic vibe to a Cape Cod coastal venue! My top three favorite moments from their day include their emotional first look including Nick's tear-filled reaction to seeing his bride, their sentimental vows read to one another as if nobody was watching, and their taupe colored Quicksand rose petal sendoff seen in the epic photo above! Highlights of their custom wedding design by AYE included the bridesmaids lush and full bouquets by True Vine Studio, a white shiplap wall covered in blush calligraphed escort cards, tables covered in La Tavola embossed linens with overflowing florals, gold flatware and taupe ribbon tied white hemstitch napkins, a custom crest by Amanda Day Rose featuring a modern monogram and hand drawings of all of the flowers incorporated into Trish's bouquet. || Wedding coming soon to one of our favorite publications! ||
Samara and Brendan's garden inspired meets slightly industrial private estate wedding on the coast was on the most picturesque day of the 2017 wedding season, complete with 80 degree weather in the middle of September and complete with a sunset that left the sky cotton candy colored. This bride and groom's vision for their day was one filled with balance – masculine and feminine, soft and structured, classic and modern, lush and simple. My top three favorite moments from this day included Samara and Brendan's heartfelt vows, Samara's sentimental moment hugging her sweet Nana (who almost didn't make it to the wedding for health reasons), and an epic rendition of the Hora by Hot Mess Band that the guests ROCKED and is unparalleled to any hora I've ever had at wedding! Highlights of their custom wedding design by AYE included Samara's statement overflowing asymmetrical bouquet by the Wild Dahlia, the 42 person handcrafted walnut wood head table by True North covered in taupe pillar candles and romantic floral arrangements filled with Cafe au Lait Dahilas and various garden roses, the barn chuppah covered in delicate ethereal fabric and just the right amount of greens and florals and the modern refined stationery suite with custom vellum envelopes and romantic ribbons, and the bridesmaids attired. The Sysun's wedding was certainly one for the books and one of our Instagram followers' absolutely favorite weddings of all time! || Wedding coming soon to one of our favorite publications! ||
Amy and Ben's refined and dapper coastal celebration filled with an oyster grey, charcoal grey, blush, nude, taupe and crisp white color palette brought a smart and modern elegance to the sailcloth tent at the Pilgrim Monument in Provincetown. Amy's custom Ines DiSanto gown was impeccable, and one that certainly will be one of my all time favorites! My top three favorite moments from their day include their their first look on the towering dunes of Wellfleet as the fog rolled out to sea, their hilarious vows shared with one another, and the groom's sentimental thank you toast which also commemorated his late father. Highlights of their custom wedding design by AYE included the three piece letterpressed stationery suite including a map of Provincetown by Of Note Stationery and brush calligraphed grey envelopes by Posh and Prep, floral filled ceremony overlooking panoramic views of Provincetown, the custom lounge area of walnut wood benches and coffee tables with rolled up grey and blush turkish towels for guests to cuddle up with the ocean breeze, custom calligraphed cocktail signs by Posh and Prep to show guests our hand selected wines and craft cocktails available, the oyster grey chic lounge furniture surrounding the tent's dance floor, and bistro lights over various shaped walnut farm tables covered in oyster grey clay pots overflowing with the prettiest feminine garden roses and spray roses you ever saw by Les Fleurs.
Elle and Robert's wedding was one of two of AYE's Event Management weddings this year, and boy was it ever so gorgeous against the backdrop of the Eastern Yacht Club in Marblehead. From the gorgeous bridesmaids in pale blue complete with their lightly composed green filled bouquets, to the views of Marblehead as the backdrop to the ceremony, to the launch and marina first look and the canon firing by the couple at sunset, Rob and Elle's celebration was the epitome of coastal chic with a hint of garden inspiration. And with Mikhail Glabets behind the lens, their golden hour photos were truly pure sorbet colored magic.
In May we had the pleasure of planning an colorful intimate garden inspired wedding celebration for Ali and Sean at a private home on the coast of Chatham, Massachusetts. The wedding brought together roots from Sean's home in Ireland to Ali's love of the Cape. What I loved most about their day was how approachable and intimate it felt with all of the personalizations and fun details Ali and Sean meticulously incorporated. Since Ali and Sean adore dessert, guests arrived and enjoyed heart shaped ice cream pops at the entry to the wedding before the ceremony — dessert first is always a win in my eyes! Guests enjoyed a cocktail hour of delicious hors d'oeuvres, cocktails including a raspberry prosecco signature cocktail complete with rose gold shimmer covered raspberries, and oversized custom lawn games. The celebration continued with a stations dinner featuring all of Ali and Sean's favorite foods across the globe, the sounds of a jazz band and finally a bonfire with a traditional irish sing-along to keep the party going until the wee hours of the morning.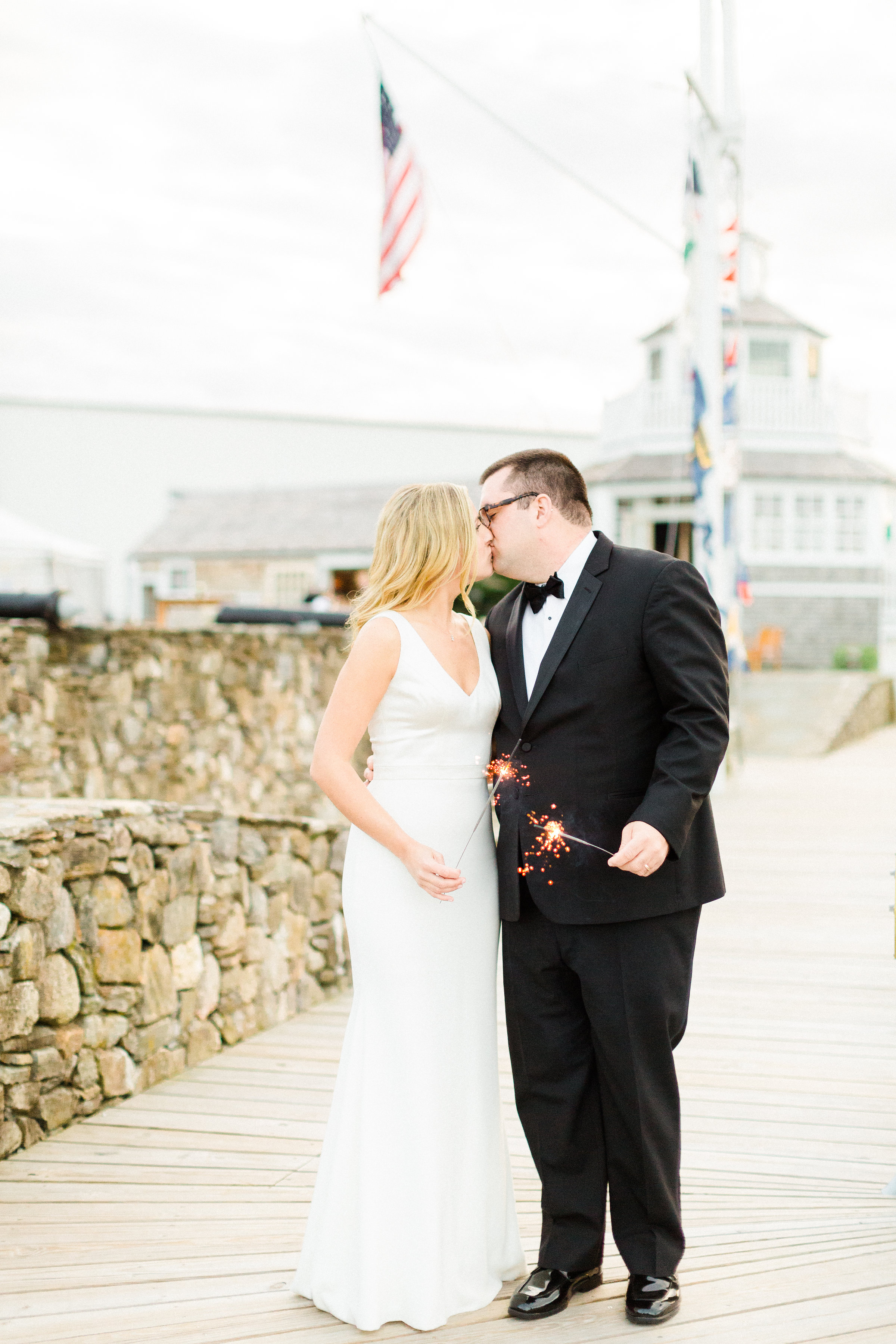 Callie and Jimmy's wedding was our second Event Management wedding this year, and it was the sweetest tented wedding on the ocean you ever did see. Callie and Jimmy and I go way back actually — we all went to high school together. When Callie approached me to help here with her wedding with high school sweetheart Jimmy, I was so truly honored (they have been together ever since I met them in 2004!). Their gorgeous day was set against the ocean views at Nauticus Marina in Osterville, MA, with their ceremony taking place down the street at Our Lady of Victory Church. One thing is for certain — Instagram followers, you sure did LOVE the bridesmaid's Earl Grey Jenny Yoo gowns and flower girl dresses complete with their white ballet slippers and greenery crowns. With references to the show Friends (a "You are My Lobster" cake with a little lobster peeking out the side of the cake), sailcloth tents filled with bistro lights and farm tables, the sounds of the couple's favorite band they discovered on Nantucket, puppies in tuxedos, and florals in every nook and cranny, Callie and Jimmy's celebration was a chic, energetic and sentimental day for two high school sweethearts who deserve the best. Oh and a little private sparkler moment between just the bride and groom was my favorite moment from this day, hands down!
This wedding will forever be near and dear to my heart. As I mentioned earlier, my big brother Ryan and his fiance Chelsea were married this year on a stunning Fall day in October this year. This day was emotional from the moment we woke up. To tying my brother's bow tie as he got ready, to standing by my new sister's side in church, to watching my parents walk down the aisle together as parents of the groom, to hearing my uncle perform the ceremony, and hearing all of the wonderful things about this couple in speeches, this is one celebration I'll never forget. I could go on and on about the highlights of Ryan and Chelsea's wedding (from the florals to the gowns to the tea time hosted after dinner to the Tommy Bahama's inspired coconut wedding cake adorned with florals), but truly the reasons I love it most is for the emotional value it holds.
THIS WEDDING. This wedding for the Bachelor's Whitney Bischoff and Richard Angel was by far one of the most pivotal weddings in my career, and I will always adore this design no matter how many years pass. This wedding turned AYE into a celebrity wedding planner, put our name and work on line and in print in People Magazine and on the cover of Style Me Pretty. Whitney and Ricky's romantic coastal, sentimental, and slightly Southern inspired celebration featured a soft grey, crisp white, blush, an array of sorbet hues and vine green color palette, bringing a feminine while luxe and glamour vibe to the coastal Wequassett Resort. My top three favorite moments from their day include Whitney walking down the aisle to My Old Kentucky Home (in honor of her home state) with her lovely Mamaw, the look on their faces the moment Whit and Ricky saw the reception space in all it's stunning glory, and their first dance to Amazing Day performed by Ricky's father and brother. Whitney and Ricky's wedding had SO MANY sentimental details incorporated within the design — almost too many to count. However some of our favorites included the all garden rose statement bouquet (our most favorite bouquet to date) made by Shawna of the Wild Dahlia, the completely custom invitation suite by Amanda Day Rose including the Angel's interlocking monogram surrounded by florals and one lily (for Whitney's late mother) and keepsake featuring the lyrics from Amazing Day, the tablescapes featuring three different floral stories, the Cubs themed grooms cake, and the perfectly personalized custom gifts by Teak and Twine for every bridal party member. To see the ENTIRE wedding featured on the cover of Style Me Pretty, click here!
I want to say a huge heartfelt "thank you" to my dream vendor teams who have rocked this year from start to finish – Beth of Elizabeth Laduca Photography, Amanda of Amanda Day Rose Paper, Shawna of the Wild Dahlia, Mike and the team at Sperry Tents, Lynell and the team at Russell Morin Fine Catering, Charlene and Rich of True North Event Rentals, PEAK Event Services, Kaylyn at True Vine Studio, Kerianne at Les Fleurs, La Tavola Fine Linen's team, Carly of Carly Michelle Photography, Deb of Deborah Zoe Photography, Dyane at Be Our Guest, Mikhail of Mikhail Glabets Photography, Heather of Heather Chipps Photography, Kate of Kate Rose Photography, Meredith of Meredith Jane Photography, the teams at Wychmere, Wequassett and The Cape Club, Boston Common Band, Beat Train Productions, Hot Mess Band, Elizabeth Greene and Stephanie Weers of Style Me Pretty, and more (I know I'm not mentioning everyone) as the list could go on and on! You all make this little world go round for me, and your efforts to provide for AYE couples that go above and beyond the norm to bring magic into their celebrations will never go unnoticed and will forever be appreciated. Love you all!
To my parents, brother, sister in law, friends and family, I love you the most, to the moon and back. You make life sweet.
To my couples, I'm obsessed with every single one of you and your love stories and wedding visions continually inspire me. Thank you for entrusting me with your milestone celebrations and some of the happiest days of your lives.
And to my fiance Sean who is my rock, silent cheerleader, best friend, partner in crime for life. Thank you for always being by my side, supporting my late nights, sending flowers just because, understanding the busy-ness of wedding season, and for everything you do in love. Looking forward to our wedding year of 2018 and forever with you!
Friends, I hope you've enjoyed this year as much as I have. Any year, with all of its ups and despite its downs, can be a remarkable year of growth, emotions and beauty. It can be the chapter of your life that changes the course and direction you are going to one that will serve you the best in the future. For me… 2017 was that chapter. I am so grateful for this year, it's milestones, it's accomplishments, it's challenges (boy there were quite a few), and it's lessons. And there is one more part of my life that I am grateful for — and would be YOU. Thank you for following this journey and supporting the wedding planner with a small business and the dream in her heart to bring romantic, love filled and magical celebrations into the world. You all are one incredible support system, and I cannot wait to give back to you more and love on you more in 2018.
Au revoir, 2017. And 2018…. let's do this.
xoxo,
Keri