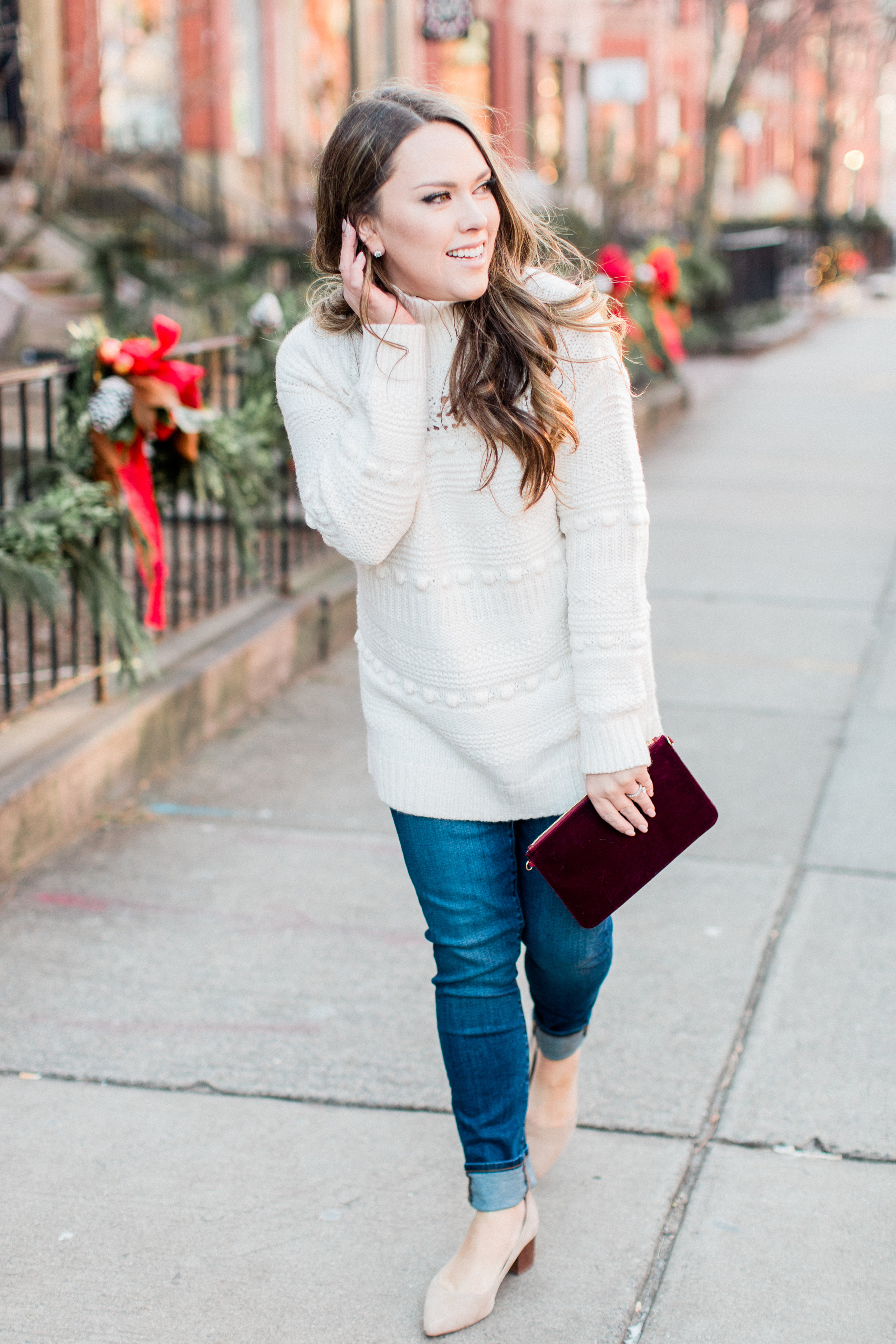 I don't know about you, but this holiday season has come and gone far too quickly for my taste! I also don't understand how it possibly could have, since I was that crazy gal watching Christmas movies the weekend before Halloween this year — don't judge, I love this time of year!
That said, yesterday I made a quick trip to Loft at the Prudential Center here in Boston to pick up some last minute gifts for a few friends and a few pairs of these cozy slippers in gray as stocking stuffers! I got everything I needed plus a few extras for my Holiday wardrobe this year— whoops! I couldn't resist.
For Sean, myself and our families, we do quite a bit of traveling in the car over the Christmas season. We go to the Berkshires (3 hours away) and to the Red Lion Inn for our annual Christmas tree cutting weekend. We go to Sean's parents' house west of Boston for Christmas Eve, my brother's house on Cape Cod for Christmas Day, host New Year's Eve at our place and then this year we are taking off to Vermont for a ski weekend after New Years. And while I love to be comfortable in the car, I also don't want to look like I rolled out of bed when I arrive to our big Christmas Eve celebration. And so yesterday when I stumbled across two perfect outfits for travel and Christmas Day, plus a coat that dresses up any look, I couldn't resist!
For all of these two looks, details and links to purchase if you need a few last minute items, continue reading.
This outfit and coat is going to be my look for Christmas Day! This year for Christmas Day our plan is to spend the morning opening gifts by the fire and Christmas tree while enjoying my father's famous Christmas Breakfast (eggs benedict with all the fixings), watching Christmas movies midday and then making a delicious traditional roast Christmas menu to share together at the dinner table in my brother's new home. This winter white knit sweater with tiny pom poms is so festive and incredibly cozy, and paired with these dark wash jeans (with a slight stretch to them) are perfect for remaining comfortable after a few days of indulging! This coat is the perfect weight for these bone chilling New England December days we have been having, and better yet it looks so much nicer for Christmas than my giant down coat resembling a sleeping bag!
For my travel outfit from home to casual Christmas Eve festivities and for our trip out to Vermont for aforementioned ski weekend, this cute and cozy ensemble of jeans, soft light grey long sleeve shirt and neutral plaid poncho is going to be my best friend! I love how chic the entire look is, while completely practical at the same time. Like a blanket scarf, this pretty poncho is the perfect layer to go over the basics underneath to keep me warm in the car without having to wear my coat the entire car ride. And with it looking as chic as it does, I can simply touchup my lipstick, hop right out of the car and into the party without needing to change for the festivities!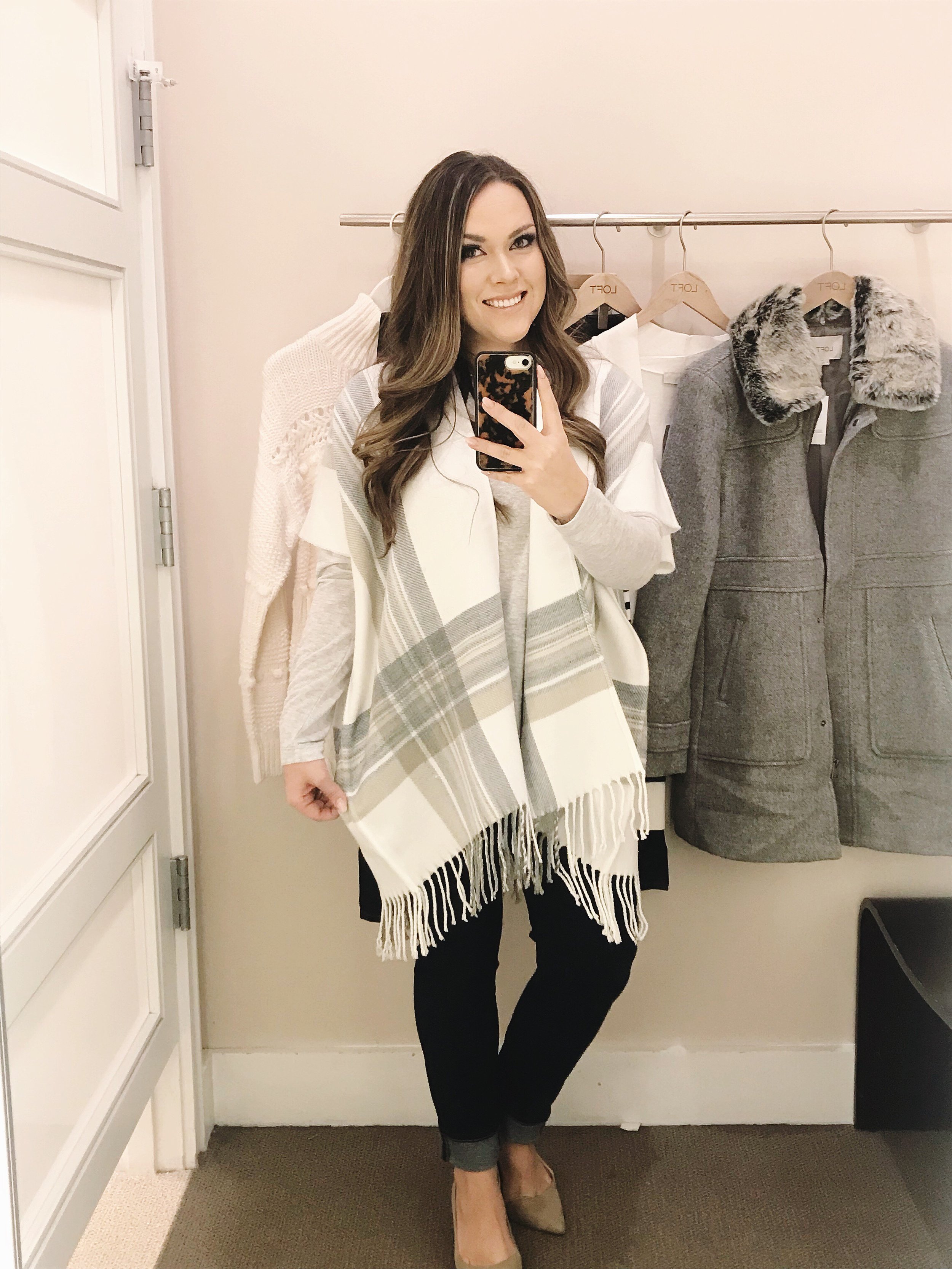 So friends, it's back to wrapping gifts for me but! If you're in need of a couple last minute holiday outfits that are travel-friendly to boot, definitely pick up these pieces online or in stores. Oh, and I believe everything is 50% off — so go ahead and treat yourself 😉
And if I don't get the chance before then, I want to wish you all a very merry Christmas and happy holidays from myself, the Always Yours Events team, and our little cozy home!
xo, Keri
This post was a partial collaboration and partnership with the wonderful retail teams here at Loft Prudential Center and Loft Derby Street. All reviews are my own, and all outfits are actually those that I will be wearing over the holidays — I'll make sure to share me wearing them on my Instagram! Only honest reviews will ever be shared by me. #ad #sponsor #partnership #loveloft #loftlocalstyle