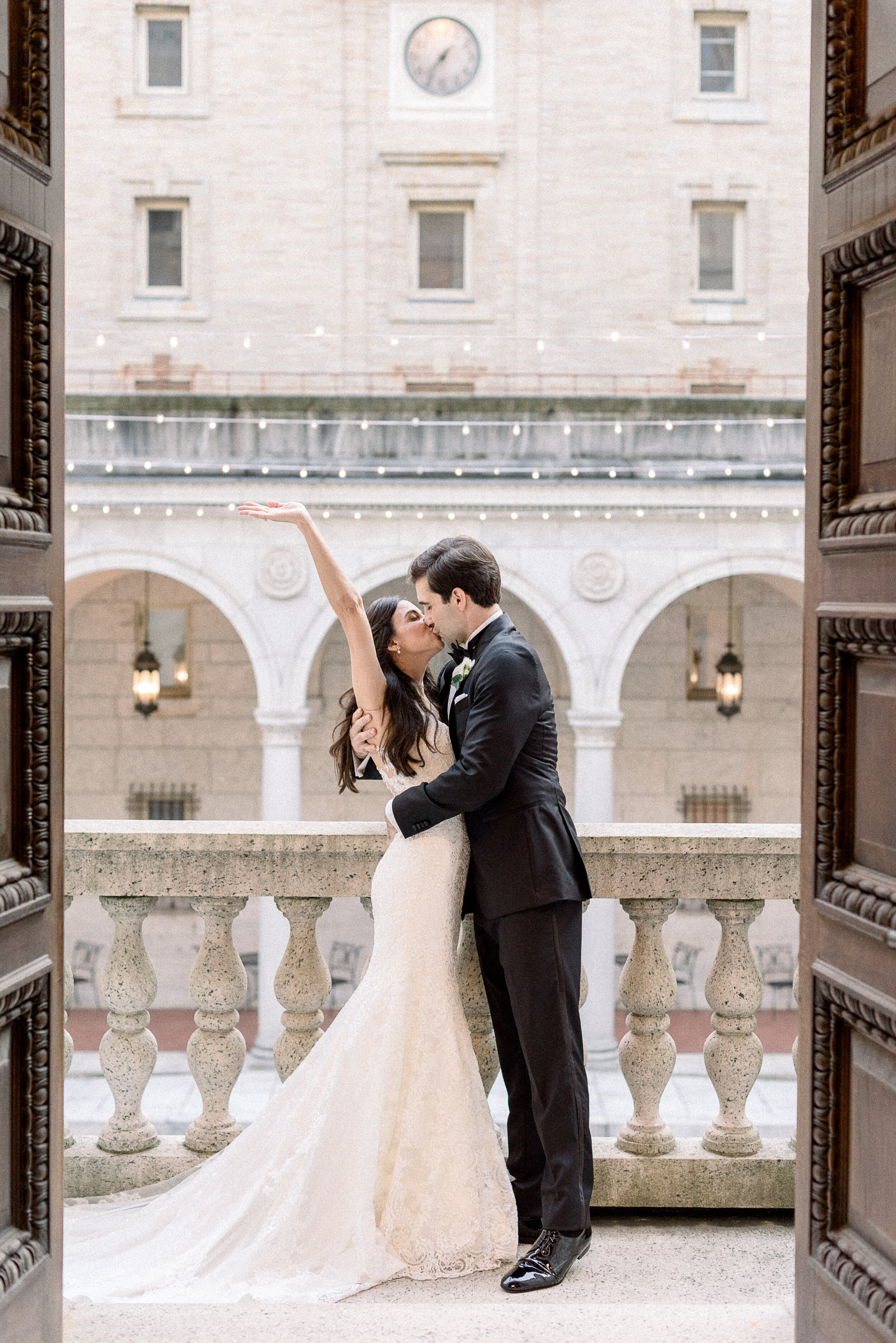 Brides and Grooms,
I empathize with how you are feeling right now – you're facing the decision to postpone or you have just postponed your wedding. I am walking alongside you during this challenge. I think I speak for many in the wedding community today in saying that we are here to support you and navigate through this uncharted territory by your side. The uncertainty that comes with COVID19 is uncomfortable and scary, but today I'm going to highlight where there is certainty around your wedding. There is certainty that no matter where, when or how your wedding takes place, I promise it will be magical. Yes, I am certain it is going to be magical.
During this time many wedding plans for Spring 2020 are morphing and weddings are being pushed to new dates, and I recognize this is creating overwhelm and disappointment. Please know I feel what you are feeling — as a wedding planner I truly love my couples and their wedding plans as much as they do, and experiencing this with some of them has been gut-wrenching. Whether you are in the process of making a decision to move forward as planned or to postpone, or if you have already made the difficult decision to postpone, today my mission is to rally around you and provide you with the relief you need to make your wedding plans less stressful. To do so, I am going to share tips, tricks, ideas and the benefits you have in postponing (yes, you read that right). I want to give you excitement knowing that there are opportunities you have now that you didn't have before, which I hope will bring you comfort and joy in the coming days while you continue to wedding plan.
But before we dive in — I want to share something with you. If you take ONE thing away from this blog post, let it be this:
The history of our world is made up of great love stories. And weddings are a result in the profound love we have for each other. You as a couple are the story, while your wedding tells the story and celebrates it — not the other way around. The date, the time, the venue and the guest count can change, but the heart and the story will always remain untouched because you are the story. No matter what changes occur, your original stunning wedding WILL morph into another stunning wedding. It will be remarkable, and the memories will live on and on and inspire generations to come.
LET'S DIVE IN
Most of you are reading are either at a crossroads and making tough decisions, or you have already pursued a postponement. Maybe your date has changed, the guest count has lowered or in a rare case the venue has changed. I know plans don't seem idyllic at the moment, but I want to show you how we can make things exciting and benefit from this change in plans.
Let's address the greatest concerns and questions below:
OUR WEDDING DATE CHANGED AND NOW WE ARE GETTING MARRIED IN A DIFFERENT MONTH AND SEASON IN 2020. DOES OUR DREAM WEDDING VISION NEED TO CHANGE NOW?
Your wedding vision does not need to change at all if you don't want it to! With these unprecedented times also comes the relief of being able to throw the "rule book" out the window. If you want a summertime wedding in December, you can have a summertime wedding in the winter and indoors. Think of it like the "no white jeans after Labor Day" rule – we wear white jeans in the winter and call it "winter white." Be confident and unapologetic in your color scheme, attire choices, food choices and aesthetic. Is your color palette very Summer inspired but now your wedding is in the fall? All color palettes are acceptable ALL year through. Do you have a sleeveless wedding gown but your wedding is in the winter now? Wear it and rock it. It doesn't matter that the season has changed. If you have to pivot at all, it might be with florals due to availability, but I can assure you that your trusted floral designer will help you select flowers that embody the color and feeling you are hoping to achieve no matter what season. Fun fact: did you know there are ways to alter some floral types to look and feel a little bigger, fluffier and similar to other floral types you love? It's called "floral flexing." If you had been excited for garden roses or peonies and for some reason they are unavailable, speak with your floral designer about "flexing" some standard roses!
On the flipside you might find it exciting to get creative and pivot your style a little to embrace the new wedding date and season! The silver lining is now you have the time to update your design if you desire. Maybe add in an accent color to your neutral color palette to deepen it with shades like dusty rose and burgundy. Or, maybe add in a bold pop of color like black or a jewel tone such as emerald green or a rich blue. Or you could consider adding enhancements. See an example below:
Yesterday a bride asked me what she could do to transform her late Spring wedding to early December. Her color palette is blush, white and green. Some simple ways to pivot that palette into a winter white and neutral palette is with a little bit of added texture such as velvet, add white textural blooms such as white fringe tulips or bleached ruscus (as seen in this editorial), and maybe even some flocked white details. She could add touches of white ruscus to boutonnieres and bouquets, as well as white fringe tulips to centerpieces to add some romantic wintery texture to arrangements without changing the color palette. She also could select a velvet linen for the guest tables. Imagine a champagne velvet OR even an emerald green velvet linen with gold flatware and overflowing neutral blooms in the center surrounded by taper candles. And for stationery? What about a champagne velvet wrapped invitation in a gold calligraphed envelope for a subtle winter touch? What if she did an awe-inspiring installation of delicately white flocked winter evergreen trees (left undecorated for a more sophisticated and romantic look) in the entryway leading into the main room where the reception is taking place? With a little creativity you can build on top of the design you already have to morph your celebration and reinvigorate your excitement!
OUR WEDDING DATE CHANGED AND WE ARE SO SAD WE HAVE TO WAIT TO BE MARRIED. HOW DO WE REFRAME OUR THOUGHTS AROUND THIS?
I know you are disappointed that your actual wedding date is changing — so many of my own couples have an attachment to the specific wedding date they have chosen. But I do think there are some ways we can still commemorate the date for the marriage while selecting a new date for the wedding! One way is to have an intimate ceremony on your planned wedding date, whether it be at city hall, your own living room or your backyard. Early this Summer I have a sweet couple doing exactly this — they will get married at home by the bride's sister (with marriage license) and then the wedding day will proceed as planned on their new date! My brother and sister in law did this a few years ago, and I have to tell you that the first little wedding was one of the most magical days I have ever been a part of — I cried joyful tears the entire time. There is something really romantic and special about this "secret" wedding as we are lovingly referring to it, and I do think those with the concern of postponing and waiting to be married will love this solution.
If this smaller intimate wedding is not an option for you, I want to provide you with a little pep talk here. I can promise you that this new date you have selected is the very best plan for you at this time. As someone whose wedding was threatened by a natural disaster (I'll save that story for another day), I will tell you that the stress and anxiety leading up to the day amidst the extremely volatile climate we are in will rob you of the joy and excitement. Every couple deserves to be ecstatic the week of their wedding, and if the current state of the world is looming over you and defining your feelings about your wedding day, you might find yourself wishing you had postponed as the wedding arrives.
OUR GUEST COUNT IS GOING TO BE LOWER. THIS IS CHANGING THE FEELING OF OUR DAY. HOW DO WE CHANGE OUR PERSPECTIVE ON THIS?
Guest count decreases could occur with continued travel bans and fear of travel in light of COVID-19. I know this is something weighing heavily on couples who are proceeding with their current wedding dates AND those who are postponing. This is also something happening when couples are postponing wedding dates to a time when guests will potentially have busier schedules. Do not fear — for those guests who cannot attend no matter what the reason, we have virtual ways of which you can share the celebration! Services are becoming available through videographers and entertainment vendors to provide live streaming of wedding ceremonies and formalities of the reception, as well as short recap videos to send to those guests shortly after the wedding. Save a ceremony program for each guest who cannot attend as a keepsake, and be sure to provide them with the information on how to live stream the wedding or send them the video of the wedding post celebration!
A lower guest count is not idyllic, but it does have a little silver lining and benefit — and that is having a more wiggle room in your budget now due to lowered fees in catering, beverage, rentals, etc. Now you can consider adding in anything you may have had to remove to remain on budget before. Consider adding in videography (if you haven't already) and the aforementioned virtual service for your guests who cannot attend first, and then maybe also add in that floral installation on the staircase of your venue that you had been dreaming of, upgrade your tabletop pieces (ie: chargers, stemware, flatware, etc), or maybe even upgrade your wedding invitations to have a few bells and whistles such as a hand dyed ribbon or vintage postage on the calligraphed envelopes. The possibilities are endless!
WE ALREADY SENT OUT INVITATIONS AND NOW WE HAVE TO CHANGE THE DATE. WHAT DO WE DO TO PRESERVE THESE INVITATIONS?
You are not alone! Many couples are experiencing this. Do not fear. You can simply send out an announcement (physical or via-email) designed by your stationer to match your invitations and update guests on all of the new details. Be sure to also update your wedding website with all new information so guests do not get confused! Or if you prefer to work with your stationer to reprint and resend new invitations, you absolutely can! Lean on your stationer to guide you.
OUR INVITATIONS ARE ALREADY PRINTED. DO WE SEND THEM OUT? DO WE REPRINT? DO WE ADD SOMETHING TO IT? HELP!
If you are waiting to send out your invitations as you determine if your date needs to be postponed, you have a few options. You can hold off sending invitations out and work with your stationer to reprint those pieces of the invitation that will need a reprint due to dates and information changing. You also can leave the current invitations unsealed and if you decide to postpone you can ask your stationer to create an insert that will sit atop of your main invitation explaining that the date and times have changed. This prevents the waste. If you are planning to proceed with your wedding date as planned at this time, feel free to send out your invitations. If you have to postpone after, do not fret. A postponement announcement with new details can be sent in the mail or an email update can be sent to guide your guests to the wedding website for the full updated information about the wedding. Point is, we have so many solutions and options for stationery, so please do not worry too much about this aspect of the day! Lean on your stationer to guide you.
WE NEED TO POSTPONE BUT NOT ALL OF OUR VENDORS ARE AVAILABLE. NOW WHAT?
The goal is to keep most (if not all) of your original vendors on the vendor team should you have to postpone your date. But it is possible that one or two vendors will not have the new date available. If the right thing to do for your wedding overall is to proceed with a new date of which a vendor or two are not free, it will be okay. Ask your planner (if you have one) and the original vendor if there are any outside of the box solutions to consider. An example would be working with your photographer's associate to photograph the celebration if the main photographer is not available on the new optimal date. If you have to bring on a new vendor entirely, ask your planner for a recommendation for a vendor who has a similar style, approach and aesthetic to your original vendor. Rest assured, your vendor team will be whole again and will bring your dream wedding to life on your new date.
THE ONLY DATES AVAILABLE FOR OUR WEDDING ARE SUNDAYS AND WEEKDAYS NOW IN 2020. IS A WEEKDAY WEDDING EVEN A GOOD IDEA?
Magical weddings are not reserved only for weekends. I am CHAMPIONING the weekday wedding in 2020, as I know embracing weekday weddings will help set couples free of the pressure to only be married on Fridays and Saturdays. I am going to let you in on a secret — after COVID-19 quarantining your guests will be looking for any excuse to dress up in their best and celebrate, no matter what day of the week it is. If you choose a weekday wedding date, you will not be given a hard time by anyone. You have permission to throw the rule book out the window in 2020. Rest assured, a weekday wedding won't make your celebration any less special. #WeddingWednesdays, anyone?
A FEW THINGS YOU SHOULD DEFINITELY DO IF YOU POSTPONE YOUR WEDDING:
Recognize that there is no stigma: Changing your wedding is 100% okay. There is no stigma right now about having to make changes, accommodations and alter initial plans and designs. This includes choosing to host a midweek wedding! I want you to feel comfort in knowing that a different date will not make your wedding any less special. After this dark time in the world your love is a light and brings the joy we all are desperately craving, and your wedding will be accepted with open arms no matter what.

Take advantage of your additional time: You have the benefit of more time right now (especially with quarantining) and you should take complete advantage of it! Be proactive – go ahead and prep those welcome bags now, fill out your photographer's formal photo list, give the band or dj all song selections, purchase any bridal party and parent gifts now and wrap them, etc. You have the rare benefit now of having a very streamlined and calm time leading up to the wedding! Being proactive will allow you to completely be prepared so that during your wedding month you will be completely immersed in the excitement of long awaited milestone!

Trust your wedding vendors: They are professionals, and it is ingrained in them to want the best for you and your wedding day. They will work day in and day out for you. They are here for you, and come hell or high water they will help you though this. Lean on them. Believe in them. Let them be a support system for you.

Infuse more of your story into your design: With more time, I am challenging all of you reading this post to consider infusing more of your story into your wedding design. This week one of my May brides wrote to me saying that this experience has made her realize that she wants to make her wedding feel even more true to her and her fiancé, and I couldn't agree more with her statement. I want all of you to look at your wedding and see if there are any places where you can add more of your story. Revisit your ceremony with your officiant and have him or her add in another story that embodies who you are as a couple. Consider adding a few songs to your ceremony or reception that have deep meaning to you. Include a note in your ceremony program telling guests about how happy you are that they are attending and celebrating this day you have been waiting for. If you weren't planning on having favors, maybe consider doing a donation to a foundation or charity that has meaning. Get a little creative. Think a little outside the box. Remember that your wedding is telling your story. Be unapologetically you as you approach your wedding plans moving forward.
Everyone, mark my words: we are going to see some of the most magical, meaningful and sentimental weddings we have ever seen come out of this next year. I mean that with all sincerity. I truly believe the world is about to experience weddings unparalleled to what we have recently seen. I get goosebumps even typing this. We currently live in a world where everyone is READY for an outward celebration of joy. And your wedding will be an opportunity for us to come together in celebration of your love, your story and the next chapter ahead of us all.
With a heart filled with hope and optimism, I stand with you as you navigate and wish you all the best as you plan your dream wedding in 2020.
xo, Keri
Michelle Lange Photography